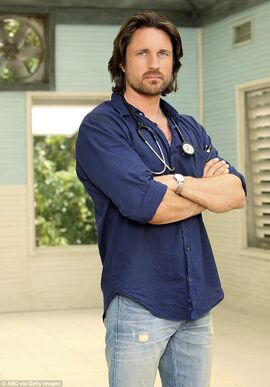 For those of you who thought you might never get the chance to see your favorite characters from the Australian version of
"Secrets & Lies"
again, don't fear! You will at least get the chance to see
Martin Henderson
again.
For those of you who don't know, Martin Henderson played the role of Ben Gundelach, a man whose life is turned upside-down when he is accused of murdering his 4-year-old neighbor, Thom.
For those of you who also don't know, the American series "Secrets and Lies" is based on the Australian series "Secrets & Lies". The first season of both involved an identical plot line, however, in the American version it is Ben Crawford who is accused of murdering his 5-year-old neighbor, Tom.
The news of Henderson's return first appeared on the site Daily Mail:
Meet McDreamy's replacement! Patrick Dempsey lookalike Martin Henderson joins Grey's Anatomy cast
By KAYLA CALDWELL FOR MAILONLINE
Fans were devastated when Dr. Derek Shepherd - aka McDreamy - played by Patrick Dempsey, was killed off in season 11.
However, it appears Shonda Rhimes is trying to make it up to them, as the series' newest addition Martin Henderson bears an uncanny resemblance to the fan favorite 49-year-old.
And the 40-year-old actor, who already has a working relationship with Shonda, has been cast as a series regular on the popular ABC drama, as reported by Deadline.
Martin already has experience playing a dreamy, life-saving doctor, as he starred in the short-lived 2011 ABC series Off the Map, executive produced by Grey's Anatomy creator Shonda.
No details have been revealed about Martin's character yet, but he is expected to play a new surgeon at Seattle Grace.
He also starred in her production company's drama pilot The Box, and appears in thriller Everest, which hits theaters in September.
Martin originally found fame working in his home country of New Zealand on hospital drama Shortland Street from 1992-1995, before moving to Australia where he starred in soap operas Echo Point and Sweat.
He continued gaining acclaim in Australia, working on series Big Sky and Home and Away, earning an AFI nomination for his work on the film Kick.
Most recently he starred in the original Australian series Secrets and Lies - which was remade by ABC - and Sundance Channel's drama The Red Road.
His resemblance to fan-favorite Derek Shepherd (Patrick) is likely no coincidence, as the character was recently killed off in a season 11 episode titled How To Save A Life, to the devastation of many.
His character was hit by a truck after after helping the victims of a car accident in the shocking episode, after which he was rushed to the hospital suffering from major head trauma, alive but unable to speak.
None of the staff took the correct procedure of giving him a CT scan, which he fruitlessly tried to communicate to them.
On top of that, the hospital's neurosurgeon was delayed, arriving too late, and Shepherd was declared brain dead.
His wife Meredith (played by Ellen Pompeo) arrived and signed the papers to switch off his life support.
However, despite many fans' devastation, the show will continue on. Shonda released a statement after the episode, saying: 'Now, Meredith and the entire Grey's Anatomy family are about to enter uncharted territory as we head into this new chapter of her life.'
'The possibilities for what may come are endless. As Ellis Grey would say: "the carousel never stops turning".'
Another actor that will be a part of that next chapter is Jason George, as he has also been signed on as a series regular.
Jason has made guest appearances as Dr. Ben Warren since 2010, starring in 42 episodes of the series.
Season 12 of Grey's Anatomy premieres this fall on ABC.
It will definitely be exciting getting to see a familiar face! We're looking forward to seeing Ben Gundelach's return! Well not really Ben. He was a house painter. Now he's a doctor. Hey, money's definitely better! Anyhow, looks like we got two shows to look forward too, as the second season of the American version of "Secrets and Lies" is tentatively scheduled for a September debut. We'll let you know!
And you never know, this could help secure a second season for the Australian version of "Secrets & Lies". You just never know...